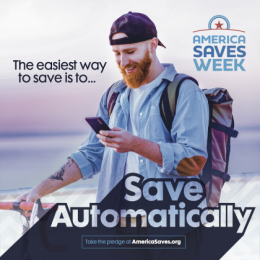 Posted On: February 22, 2021 by First Option Bank in: Banking, Community Commitment, Financial Wellness, News, Tips & Tricks
During America Saves Week we're taking a look at "What's the Easiest Way To Save"?

The answer...Automatically!

Saving Automatically is the easiest and most effective way to save - especially over time. There are three basic strategies you can use, when saving automatically.
Split to Save: Instruct your employer to direct a certain amount from your paycheck and transfer it to a retirement or savings account. Y Auto-Transfer: Every payday, have your...
Read More