Manage Your Money From Anywhere
First Option Bank's online and mobile banking services are all about two things: convenience and security. These services allow you to access your account from nearly anywhere, all while maintaining the highest level of security to protect your finances. Whether you need to quickly check your account balance, deposit a check using your smartphone's camera or make a payment using a digital card, we give you the tools to do it all.
Online Banking
Once you've enrolled in Online Banking, you can log in to our platform at any time to get a detailed look at what is going on with your First Option Bank accounts. Within Online Banking, you can:
View real-time account balances
Access your transaction history
View upcoming transactions
Transfer funds between accounts
Set up a bill payment
Order checks online through Harland Clarke (First time VIP check orders should be placed in person or by phone with a First Option Bank Customer Service Representative to receive your discount.)
Set account alerts
Enroll in E-Statements
Online Bill Pay
Don't worry about missing a payment or making a late payment because a mailed check didn't clear in time. With Online Bill Pay, you can pay nearly anyone that you would with a check. No more stuffing envelopes, paying for stamps and timing your payments to the mail schedule. Simply sign in to Online Banking and you're eligible to begin using Online Bill Pay. Features of Online Bill Pay include:
Set up one-time or recurring payments
Make payments directly from your First Option Bank checking account
Set up alerts related to your payment's scheduling, send times and processing
No fees
Make unlimited payments per month
E-Statements
If you do not have an Internet Banking login ID, please click on this link to login to your E-Statements.
Sign up for First Option Bank's e-statements and view your bank statements with ease. They're fast, convenient, and environmentally friendly!
View, print or download up to 18 months of statements, anywhere and anytime you have access to the internet.
Upload your information into any financial software that accepts .csv files.
Reduce the risk of mail fraud and identity theft that comes with delivery of a paper statement.
Receive automatic e-mail notifications when your online statements are available, usually days before you would receive your paper statement in the mail.
Your e-statement looks just like your paper statement and still includes your check images.
When you sign up for e-statements, you will no longer receive your paper statement.
You can discontinue this service at any time by logging into Online Banking and changing your statement preferences.
In order to view and print your e-statement and checks, you will need Adobe Acrobat Reader installed on your computer. Click here to install the latest version: http://get.adobe.com/reader/
Just follow these simple steps to get started today!
Login to your Personal Online Banking at www.firstoptionbank.com
Click on the "Accounts" tab, then "Statements".
Scroll to the bottom of the PDF document to locate the five character approval code.
Enter the code in the text box at the top of the screen and select continue.
The same document will appear, but this time you will enter your email address in the text box at the bottom of the screen. This will be the email address you would like your e-statement alerts sent to. (Please note that by accepting the disclosure you will automatically stop receiving paper statements.)
Now you're ready to start viewing your statements online!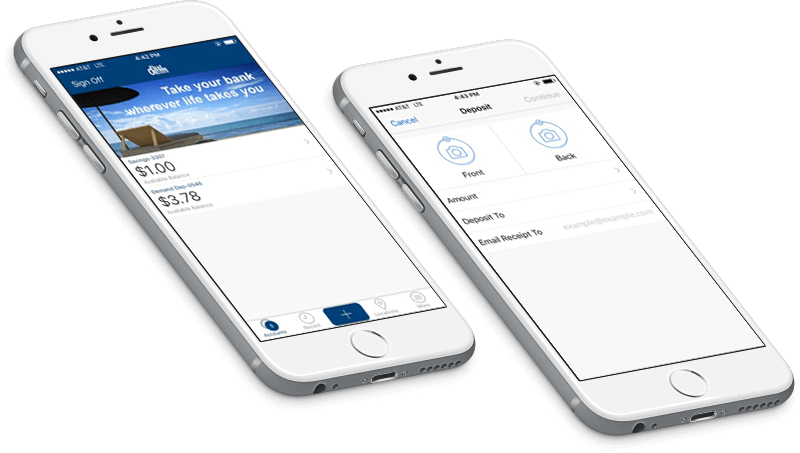 Mobile Banking
If you can't make it to a First Option Bank branch, or are unable to log in to Online Banking because you're away from a computer, you can still access your accounts. With our Mobile Banking app, you can access and control your accounts from your smartphone. Use the same login information that you would use to login to Online Banking. Once logged in, you'll be able to:
Check your balance and transaction history
Pay bills
Transfer funds between your accounts
Find your nearest ATM
Use your phone's camera to deposit an endorsed check into a chosen account
Our mobile banking app is available for Apple and Android devices. Click the icons below to download the app from your app store.
Digital Payments
Whether you want to add security to your online purchase, or you just want to make it easier to pay a friend who picked up the tab at dinner, First Option Bank has a solution. We offer Apple Pay, Samsung Pay and Google Pay, so no matter what device you use, you can handle your purchases.